$49 Cooling Tune Up with a Free Inspection
Sorry, this coupon expired on June 20, 2021
Check Out Our
Reviews

. . . From Neighbors Near You

Maureen Webster
23:23 15 Oct 21
Steven was very professional, courteous and efficient. We appreciate that he wore a mask in our home and made helpful suggestions for us. We appreciate Hobaica for all our needs.

Kay Campbell
20:02 14 Oct 21
Hobaica Services is a company I can trust! They were responsive and on time. Steven was polite, professional and his work was immaculate. I highly recommend Hobaica Services

Nancy McDowell
14:23 14 Oct 21
Amer has been our service technician twice now and has been very helpful and professional both times.

Powell Family
02:56 13 Oct 21
I highly recommend Binh. He is very knowledgeable and great to work with.

Hobaica has always maintained top notch professionals. John Miranda serviced the unit this morning. Would recommend them for any air conditioning/heating issues

Joyce Backlund
11:43 12 Oct 21
Ryan with Hobaica is the best! He is thorough, professional, knowledgeable, and works hard to make sure his customer is happy. Thank you Ryan for going the extra mile, it is truly appreciated.

Mee Young Um
23:32 11 Oct 21
Our AC blower motor broke twice since mid-June. Hobaica came to replace it twice since then. However, we noticed that our AC wasn't blowing enough air as it did previously, but all technicians from Hobaica couldn't figure out what was wrong with our system or even claimed that it was working properly. Our system could not maintain the set temperature during the afternoons and was constantly running, causing abnormally high electrical bills. Finally, after multiple technician visits, Binh T came and found out that the blower motor was not programmed properly and replaced it with a new one for the "third" time. Our AC is finally blowing sufficient amount of air from the vents!! Thank you so much, Binh T, for being professional and knowledgeable on this matter! We cannot thank you more.

Alfred Tabeek
00:51 09 Oct 21
Travis did a great job replacing the Moen cartridge in my shower. He even offered to install the escutcheon, stop tube and handle that I expected to do myself. I appreciated that. Travis is professional, does high quality work and is an overall great guy to work with. It was a job well done.

Wesley Paxton
22:06 08 Oct 21
Travis did an exceptional job of installing my new WiFi thermostat and made sure everything worked before he finished the job.
Free Giveaways That You'll Lika!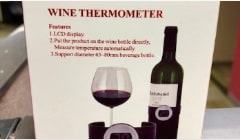 Hobaica Services | HVAC Services in Phoenix