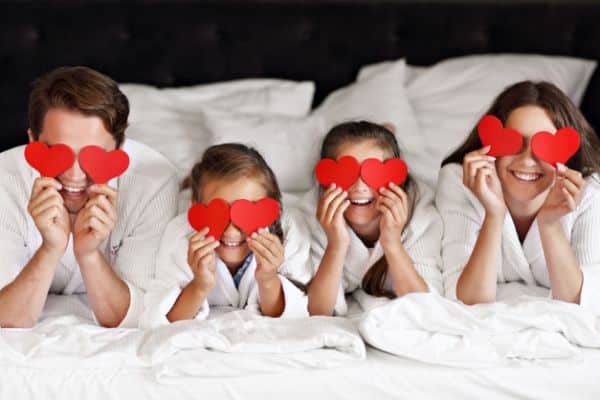 Give Your Family More Home Comfort & Safety This Month 
You and your family love coming home to the welcoming feeling of your home every day, so make sure that your home comfort and safety are properly taken care of during the month of love! Nothing makes the Hobaica team happier than making you smile with our services, which is why we want to share our limited time special offers on HVAC system upgrades and safety inspections with you. Give your family the comfort and peace of mind they deserve!
How to Enhance Your Family's Comfort & Safety:
Trade In Your Inefficient, Older AC Unit Towards A New High Efficiency Daikin System
Is your AC unit 10 years old or more? If so, it's probably using R-22 refrigerant which, as of January 1, 2020, has been banned from production. The sooner you replace with a new system, the less stress you'll have to deal with later worrying about finding proper refrigerant! On top of that, a new AC system can be as much as 50% more efficient than your current, older one.
Act now & receive:
Up to $1,000 Off Your New System
12 year No Worry Parts & Labor Warranty
0% Financing or Lease to Own Options
Keep The Heat Going Reliably!
Phoenix can still get cold even in February…our Limited Time $69 Heating Safety Inspection reduces the likelihood of a system failure that leaves your family shivering in the cold.
Get Ahead Of Possible Plumbing Problems
The last thing you need to deal with is an overflowing toilet or potentially destructive damage from leaks. Our Complimentary Whole Home Plumbing Safety Inspection ensures that your home's plumbing is running as it should be.
Have Peace Of Mind That Your Electrical System Is Safe
Your electrical wiring is often forgotten since it's not normally seen, but there may be a problem lurking…heat and time can damage wiring which can lead to general electrical flow problems or worse, hazardous electrical fires. Rest assured that your electrical is working safely with Hobaica's Complimentary Whole Home Electrical Safety Inspection.
Thought About Weak Points In Your Home's Security?
You and your family deserve the comfort of knowing that your home is secure from intruders. Our Complimentary Whole Home Security Safety Inspection will identify weak points and our expert team will offer useful suggestions on technology that helps you be more aware of your property around the clock. Book your Complimentary Security Inspection here.
Don't Forget! We Can Meet All Your Comfort & Safety Needs Including:
Cooling & Heating
Electrical & Lighting
Plumbing & Water Heaters
Smart Home Security & Automation
Sewers & Drains
Wine Cellars
Water Purification
Indoor Air Purification
Duct Cleaning
Dryer Vent Cleaning
Insulation
Water Leak Prevention
Hobaica Is Spreading The Love Even More!
For a limited time, we're offering:
$38.80 Water Heater Flush & Safety Inspection
$50 Savings On Any Repair
Free with any service:

Digital thermometer
Wine bottle thermometer
Water leak alarm
Electrical tester
Plunger
Call our friendly team today at (602) 633-9555! We Guarantee, You'll Lova…Hobaica!