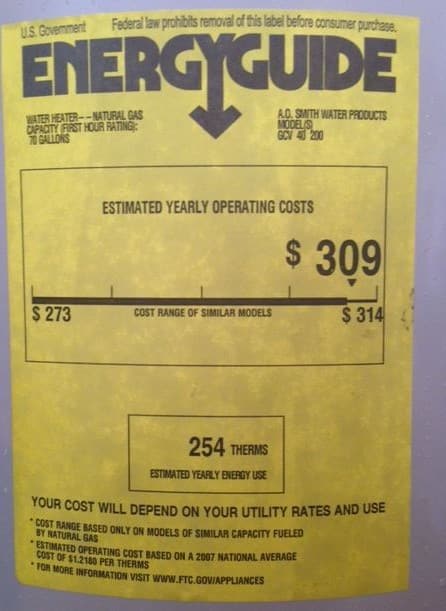 The Energy Guide is consumer information to help you plan and understand if your equipment is operating at peak efficiency.
Choosing an air conditioning system is often a daunting task, simply due to the number of options available. By reading the yellow tag known as the Energy Guide label on the units it is easier to evaluate what type of system your home already has in order to determine what type of upgrade you may need.
Here is a guide to the information consumers can find on these labels:
Unit Features: This information is located at the top left corner of the tag. It includes the features and can be used to compare the features of one system with those of another.
Product Details: This area is found at the tag's top right corner. It includes information including the system manufacturer and the unit's model number.
Operating Cost Range: Found in the center of the label, this information estimates the annual operating costs of the unit being considered. This information can be used in comparing the operating costs of similar sized models.
Annual energy use: Here the tag includes information concerning annual energy consumption. The information included here is based on the nationwide average fuel costs.
Energy Star: Devices that have an Energy Star logo on the tag meet certain strict guidelines for additional energy efficiency.
Consumers can find a lot of information on the Energy Guide label. This information can be used to navigate as you select a new AC system for the home office or other application.
Do you have questions about your home's energy usage? The comfort specialists at Hobaica Services are ready to help.
Follow us on Facebook www.facebook.com/hobaicaservices for regular updates, consumer information and general fun stuff for every Home Owner.
Hobaica Services @ www.hobaica.com or 602-995-0387
[/fusion_builder_column][/fusion_builder_row][/fusion_builder_container]