Call Hobaica To Find Out If A Ductless System Is Right For You
Have you been considering a ductless mini split heat pump? Hobaica recommends and provides complete installation, maintenance and repair for these systems, often called simply ductless mini splits, for customers who want to control the temperature in different zones of their indoor space. A ductless heat pump may be the perfect solution if you:
Have large spaces needing to be heated or cooled.

Currently have baseboard heating.

Frequently rely on space heaters to take the chill off.

Need different temperatures in separate zones of your indoor space.

Are adding rooms to your home and need to heat and cool them without replacing your whole AC system.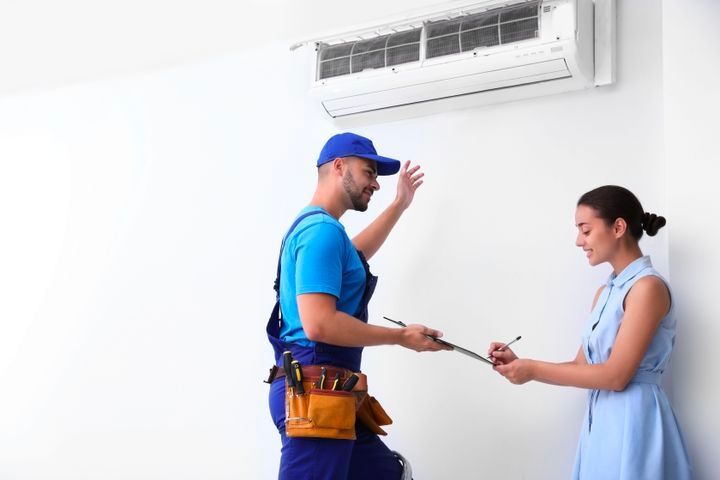 What Is A Ductless Mini Split?
A ductless mini split heat pump is a compact heat pump system that doesn't rely on ductwork to deliver air conditioning and heat to your home. Like a classic heat pump system, there is an indoor condenser unit and an outdoor compressor unit, and the system uses a refrigeration cycle to remove heat from places where you don't want it and deliver it to places that you do.
What makes a ductless heat pump different from a traditional heat pump is its size and lack of ductwork. A traditional heat pump system must be large to produce enough air to pump throughout your home with a centralized duct system.
By contrast, ductless systems are small enough to be mounted on a wall, out of the way. Their small size makes ductless mini splits significantly more energy-efficient than their larger counterparts – in fact, your cooling and heating costs will be as much as 50% lower by switching to a ductless heat pump! Additionally, up to four indoor ductless units can be tied to a single outdoor unit, allowing you to create multiple heating and cooling zones in your home for fully customized comfort.
Benefits of Ductless
There are many benefits of choosing a ductless heat pump for your heating and cooling solution, including:
Energy Efficient

– Ductless heat pumps use 25-50% less energy than standard electrical heating systems.

Cost Effective

– Requiring less energy, ductless heat pumps cost less to operate than many other heating options.

Environmentally Friendly

– Lower energy consumption also makes ductless heat pumps a "greener" choice than many other heating options.

Control

– You can control a ductless heat pump by zone, which allows you to heat the space you are using without heating your whole house.

Long Life Span – A well-maintained ductless heat pump may last 20 years or more, making it well worth the investment.
Why Choose Us?
As your Phoenix area HVAC experts, the Hobaica licensed technicians look forward to meeting you to provide additional information, and to discuss how ductless heat pumps could be a great heating and cooling solution for your indoor spaces. We look forward to serving you, because your comfort is our top priority!
To learn more about a ductless mini split heat pump for your Phoenix area home or business, contact us online or call 602-633-9555 . You'll Lika...Hobaica!
CONTACT US