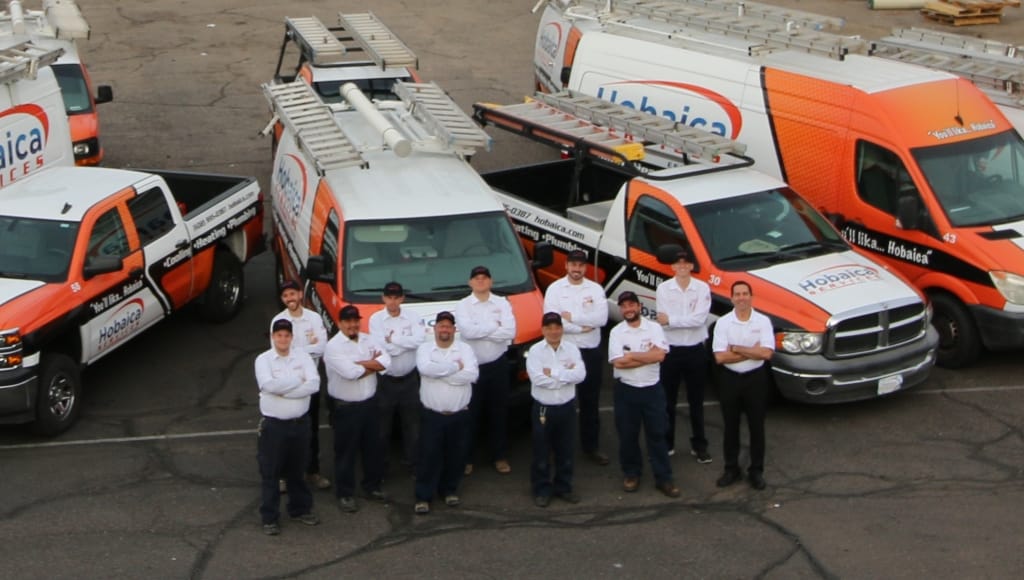 Hobaica Apprenticeship Program
Good work can be hard to find, but finding good people can be just as strenuous. And that is why the Hobaicas decided during the mid '90s that the best way to recruit and build a reliable team was to develop an apprenticeship program where they could cultivate mutually beneficial relationships with individuals motivated in starting a new career.
Recruiting individuals based on their personality, worth ethic and drive, as opposed to industry experience, allows you to find the diamonds in the rough based on the raw potential of a person instead of just a skill. This route also exponentially increases your candidate pool and allows you to train your potential hires on the industry from the ground up, the "right" way.
Evaluating all our apprenticeship candidates strictly on character traits such as likeability, trustworthiness, eagerness to learn and comfort of conversation allows us to hand select candidates that show the most promise as ambassadors of our brand. Then, we can slowly introduce the "trainable" technical aspects of our trade throughout the apprenticeship term.
"Technical skills are trainable, personality is not." Louis Hobaica
By the end of the 3 month to 12 month term, the apprentice or Service Support Person must complete all training, courses and daily workload in order to be considered for a technician position. Once one apprentice has completed the program, a new apprentice will be selected to replace him. Although an apprentice has 12 months to complete the program and coursework, it typically takes around 3-6 months which equates to roughly 3 new apprentices each year.
Daily Workload of a Hobaica Service Support Person
We may not require our apprentice's to have any prior experience or knowledge of the HVAC industry, but we do expect hard work and reliability. That is why our Service Support Person is given a number of responsibilities, a quite extensive course load and a mandatory training schedule, immediately upon entering our program.
Our apprentices are always advised to move at their own pace in order to establish a healthy work/life balance.
With that said, a lack of motivation or reliability will be noted in performance reviews by Service Experts and will ultimately impact our decision to extend an offer at the end of the term.
On a daily basis, a Service Support Person is responsible for:
Restocking Truck Inventory:

Ensures trucks are fully-stocked with standard parts

Filling the Service Expert's Orders:

Submits orders for current replacements & repairs

Checking & Reordering Parts Inventory:

Monitors inventory & orders supply when low

Managing Warranty Parts:

Orders and completes paperwork for all warranties

Bi-Monthly Fleet Inspections:

Inspects all vehicles for cleanliness, safety, organization, tire wear, checks fluids and adjusts fluid levels

Visit Service Experts Daily:

Supports all field Service Experts with all of their needs as they travel from their home to each of their jobs per day, as they don't go to parts houses and only visit our home office 2 times per month for all company meetings & trainings
The Success of the Hobaica Apprenticeship Program
Aside from selecting the right personalities to be the face of our organization, the success of Hobaica's Apprenticeship Program relies heavily on the training and education courses all apprentices must complete.
By teaching HVAC to potential hires without previous industry experience, we don't need to concern ourselves with technicians having to "unlearn" conflicting protocol he or she was taught by a previous employer. We train our potential hires on exactly how we want them to conduct themselves in the field, which gives us peace of mind that they are representing us accordingly.
Some examples of training and education our Service Support Person must complete in order to continue on in our apprenticeship program are listed below:
In-House Training With Product & Equipment Partners

Hobaica Bi-Monthly Team Meetings

NATE Training

EPA Training

Online Manufacturer Courses

Barnett Plumbing Education

Novo Water Conditioning Training

American Water Heater Training

Lennox HVAC Learning Solutions '

Electric League of Arizona HVAC Training

Mechanical Trade Contractors of Arizona HVAC Training
Along with the ability to dictate the industry knowledge and procedures, our program teaches our Service Support Personnel about setting personal goals, taking responsibility and prioritizing their workload. These elements help the individual to recognize that their effort (or lack there of) directly impacts their career & future. Being able to help someone establish a career path is a rewarding thing and whether they continue on to be a Hobaica technician or not, we can proudly say that we helped them on their way.
Service Support to Service Expert: Starting a Career in HVAC
Once an apprentice or Service Support Person has "graduated" from our apprenticeship program & proven to be valued member of the team, we offer them a position to come aboard at a Class 1 Field Service Expert.
Each technician is assigned a company van when they become a Service Expert. We do not provide our technicians tools, but we will set them up on a 1 Year Tool Loan Program which allows them a $1500 budget to purchase the basic tools they will need in the field. Not only is there no interest on this loan, but the technician is only required to pay back 50% of the loan. Orders can be processed on Amazon by the technician and Hobaica will reimburse them when they receive an invoice, but all purchases and returns must be coordinated by the technician himself, as they are his responsibility.
In addition, technicians can even use Hobaica Bucks they have been awarded during our team meetings to purchase new tools and equipment!
We strive to support our team in any way we can, both in the field and at home so we take any and every opportunity to create a positive company culture, educate them on the best business practices and work with them to define their goals.
Interested In Beginning a Career in the Phoenix HVAC Industry?
Hobaica wants to hear from you! Visit our Careers page to fill out an application or call into the office to speak to one of a friendly team members!